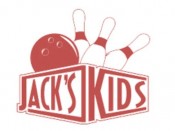 10th Annual Bowling for Jack's Kids
Sunday, March 7th 2021
Registration opens at 11:30AM.
Opening ceremonies will begin at 12:30PM and all bowling will end by 3:30PM
$35/bowler donation to bowl an average of 3 games
Shoes, 2 slices of pizza, unlimited soft drinks, and of course FUN is included! *Raffles, limited food menu, and spirits are available for purchase
Reservations are now open!
Reserve your lane today!
Click here to reserve your lane-online form
All proceeds will assist past recipients as well as our new families.
Payments need to be made before the lane reservation can be finalized.
CHECK: Jack's Kids c/o Somerville Elks Lodge # 1068
375 Union Ave | Bridgewater | NJ | 08807
PAYPAL @ paypal.com/paypalme/jackskids

Please note on the payment "2021 Jacks Kids Bowling, your name, contact information
Please choose friends/family to avoid surcharges
We encourage bowlers to get sponsors or donors. For your convenience, click BowlAThon-Pledge-Form to download and keep track of your pledges. Please bring your sponsor money the day of the event.
Sponsorship Opportunities are available.

Jacks Kids supporters,
Welcome back to school and I hope you are enjoying the beautiful Fall weather we are having. We are planning some exciting events in the near future. Friday, November 29th, yes Black Friday, Paint, Sip and Shop at the lodge. Jacks Kids is hosting this fun and exciting event again this year. Click here to view the flyer or click here to reserve your paint brush. You can kick start your holiday shopping with all of your friends while painting a beautiful paining!
Sunday, December 8th, at the lodge, we will be having our Holiday brunch for the Jacks Kids and their families. Please mark your calendars now for this exciting event. We will have a visit from Santa and you will be able to have your picture taken with Santa. Please plan on stopping in to have some great brunch and good times.
The annual tailgate will be in January, details to be announced soon. Thank you to the three guys who started this event and continue to support Jacks Kids every day! Thank you, Jim Daley, Jon Roethke and Keith Grade.
Jacks Kids is being awarded the Spirit of Somerset Award for our contributions to our community for volunteerism. We are honored to have been selected to be awarded this awesome award!! Thank you to the Somerset Treatment Services for this recognition. The awards dinner is scheduled for October 16, 2019.
Thank you all for your continued support to the entire Jacks Kids Committee and all of our Jacks Kids and their families.
Thank you,
Hank Werner
Jacks Kids Chair
Jack's Kids 8th Annual Bowl-a-thon was truly a success! We not only sold out in record time…we had a waiting list of interested supporters. We had over 60 raffle items, 25 lane sponsors and sold 65 pizzas! From the bottom of all our kids hearts, we thank you all for your love and support!! A very huge and special shout out to April René Photographyfor the awesome work and continued support. Check out what April captured on Sunday! https://aprilrenephotography.com/jackskids2019?fpciidx=31 (just fill out your name and email address to view until May). I also want to take this opportunity to thank Primetime Events NJ LLC for their magnificent job. They not only know how to engage their audience while having fun, they do an awesome job raising more $$$ for the cause! We appreciate you all!!! ❤ #itsallaboutthekids
The sponsors and donors this year can be found on our website. We appreciate every one of you. Your support is what keeps us going! Please help us extend our appreciation by patronizing our sponsors or simply thanking them.http://jackskids.org/bowling-fundraiser/sponsors/
To all volunteers,
The team we have for the Bowling Fundraiser is top notch! They are hard workers that don't mess with success! We learn from year to year what works and what needs improvement and the team does just that…IMPROVES! As we mentioned, this has come easier because we know what works! Thank you all for being a part of the team! You are appreciated and your work does not go unnoticed. #itsallaboutthekids