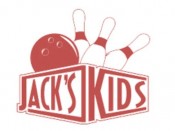 10th Annual Bowling for Jack's Kids
Sunday, March 7th 2021
Registration opens at 11:30AM.
Opening ceremonies will begin at 12:30PM and all bowling will end by 3:30PM
$35/bowler donation to bowl an average of 3 games
Shoes, 2 slices of pizza, unlimited soft drinks, and of course FUN is included! *Raffles, limited food menu, and spirits are available for purchase
Reservations are now open!
Reserve your lane today!
Click here to reserve your lane-online form
All proceeds will assist past recipients as well as our new families.
Payments need to be made before the lane reservation can be finalized.
CHECK: Jack's Kids c/o Somerville Elks Lodge # 1068
375 Union Ave | Bridgewater | NJ | 08807
PAYPAL @ paypal.com/paypalme/jackskids

Please note on the payment "2021 Jacks Kids Bowling, your name, contact information
Please choose friends/family to avoid surcharges
We encourage bowlers to get sponsors or donors. For your convenience, click BowlAThon-Pledge-Form to download and keep track of your pledges. Please bring your sponsor money the day of the event.
Sponsorship Opportunities are available.