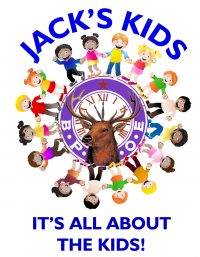 Kids Updates
Please email us to share the kids updates, milestones, prayer requests, etc
Nick Santonastasso has quite an impressive outlook on life. His achievements, inspiring stories and videos should not be missed. Nick is a funny, smart, successful and an inspirational young man. Please take a minute to check out this link …Great Big Story Interview
---
 Ray Fantel Three weeks ago, Ray had back surgery at CHOP and is home recovering. Typically recovery takes 6 weeks, so Ray is half way there. Please continue to pray for a quick and smooth recovery. Ray's family would like to share, Ray now has his own website! www.rayfantel.com  On the website you will find information about Ray, a list of future events/fundraisers to benefit Ray, and companies that helped the family and which they want to acknowledge. Please check it out and share it with others!
Update from Mom: "Ray is 7 now and is A LOT of fun! He has an interesting personality (Dad says he is just like me…for better or worse!) and has an incredible inner strength. He does not see anything wrong with himself and does not see himself as limited by any physical issues. We love it! He is challenging us to go outside our comfort zone. In fact, this summer he went surfing at the Jersey Shore!!!" See Video on Facebook
---
Please welcome our new Jack's Kids Families
Jonathan Schwartz-webpage coming soon!

---
Upcoming Events
Jack's Kids Committee will share individual Kids fundraiser events. Please email us your flyers to Jacks Kids
Support Landon and the fight against Muscular Dystrophy
Friday, September 23rd

9:30PM
Running Late will be performing at
Miami Mike's Sports Zone
Pasta Dinner & Tricky Tray Fundraiser to  benefit Shane O'Donnell
Thursday, September 29th at Somerville Elks
Tickets $25 per person
includes dinner and one sheet of tickets
Text/Call or Email Bridget 732-977-5179
Event Page
Thursday, October 9th at 1236 Prince Rodgers Ave, Bridgewater
  $250 per team to play
Deadline to register is September 20, 2016
"KISSES FOR CHLOE" ROYAL GALA
All proceeds will be donated to Chloe's family to offset medical costs.
Sunday, November 6th,  375 Union Ave
,

Bridgewater
$30 Adult/$15 Child 12 & under
Buffet Dinner, DJ, Princess Entertainment, Face Painting, and more!
50/50
Door Prizes
Dress to Impress! Children are encouraged to dress like Royalty
---
We would like to take this opportunity to promote Steps-Together's HUGE running event

Sunday, September 25th

.

Just like Jack's Kids, Steps Together is a 501(c)(3) nonprofit organization dedicated to supporting families facing a medical crisis. A very large portion of Steps-Together families are also Jacks Kids Families. Whether you are a runner, walker or just a supporter of Jacks Kids, please consider joining Steps-Together's event: (5K, 10K, 2 mile walk, kid sprints)
You can participate for an individual child or for the entire Steps-Together Organization
The following Jacks Kids will benefit: